"There is something more powerful than each of us, a combination of our efforts, a Great Chain of industry that unites us. But it is only when we struggle in our own interest that the chain pulls society in the right direction..."

- 

Andrew Ryan

---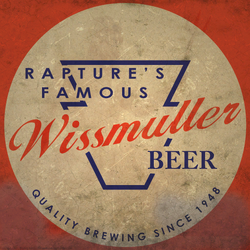 "Quality brewing since 1948"
― Advertisement
Wissmuller Beer is a famous brand of beer in Rapture, established in 1948. Advertisements are only seen in BioShock 2 Multiplayer and The Protector Trials and bottles are never encountered.
BioShock 2 MultiplayerEdit
Main article: BioShock 2 Multiplayer
The multiplayer version of The Fighting McDonagh's Tavern has a brewery in its facility, with two distillery tanks labeled as Wissmuller Beer. Like any other tank, shooting it will cause it to leak a violet liquid. Wissumuller, along with Ryan Club Beer Ale (15¢) and Tennessee 111 Horse Ale, was sold for 10¢ from the taps in the tavern area. Posters are also present in the multiplayer version of Siren Alley.
The Protector TrialsEdit
Main article: The Protector Trials
A single advertisement for Wissmuller Beer exists in The Protector Trials downloadable content for BioShock 2, in The Adonis Baths map. It is located on the wall over a bench, near the Plasmid Therapy entrance and the map's Gene Bank.
Behind the Scenes
Edit
Wessmuller Beer was actually intended for BioShock, as it is seen in BioShock: Breaking the Mold and on the back of the PlayStation 3 manual for BioShock, but it is never seen or mentioned in-game.
Ad blocker interference detected!
Wikia is a free-to-use site that makes money from advertising. We have a modified experience for viewers using ad blockers

Wikia is not accessible if you've made further modifications. Remove the custom ad blocker rule(s) and the page will load as expected.