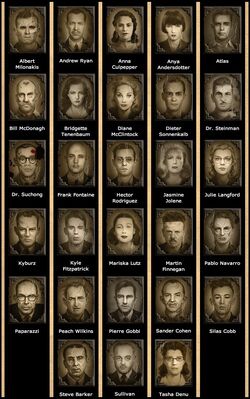 There are so many characters in the BioShock series, it's hard to keep track of them all. One could probably name a couple dozen based on the huge impact these men and women left throughout the games, but there's still hundreds more.

The following is a list of the residents of Rapture. The intention of this page is to help individuals (be they future game designers, fan-fiction authors, or curious fans) keep track of the names of the people who called the underwater city their home and hopefully answer nay questions you might have. How many people had Irish, Italian, Spanish (whatever demographic you might be interested in) sounding names? How many citizens has "R," "G," or "S" names? Just how many citizens are currently know of by name (If I've missed some, please notify me)? Hopefully these and other questions van be answered using this guide.
Rapture Residents
Note
Total: 214 not including Capt. Cal Franklin, Paparazzi, Subject Delta, Subject Sigma, The Thinker, Pearl Porter, Samuel Porter, Walter Philips, Editor of the Rapture Standard, Songbird, First Zealot, Duke & Dimwit, Earnest Eagle, Ryan the Lion, Peter the Parasite
Coming Soon
The characters who aren't technically in Rapture: There's Something in the Sea Characters, BioShock: Rapture Characters, and Citizens of Columbia!
Non-Rapture Residents