Today was a big day for BioShock Infinite. After plenty of waiting, major DLC add-ons were released and announced today. Ken Levine revealed two separate pieces of downloadable content for the game, Clash in the Clouds and Burial at Sea. While Clash seems to be a large combat-abundant DLC release, Burial may allude to another timeline, where Booker DeWitt and Elizabeth find themselves in Rapture.
Clash in the Clouds is available now for PlayStation 3, Xbox 360, and Windows PC. The add-on brings in several new challenges, weapons, gear, and locals for $4.99 (400 Microsoft Points). Players can now combine weapons, Vigors, Gear, Tears, and Sky-Lines to battle through Blue Ribbon Challenges. Completing these challenges successfully can lead to a slew of rewards, including new
Voxophones
,
Kinetoscopes
, concept art, and more.
The challenge maps featured in Clash in the Clouds include The Ops Zeal, the Duke and Dimwit Theater, Raven's Dome, and the Emporia Arcade. "With Clash in the Clouds, people get a pure action experience that takes BioShock Infinite combat to its highest challenge and intensity level," said Levine.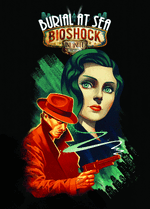 A short trailer for Burial at Sea was released today. The DLC places Booker and Elizabeth in the underwater city of Rapture on Dec. 31, 1958 - the night before the utopia's destruction. The trailer showed off droves of citizens alive and well, and it'll be quite the contrast to the emptiness of previous games. But just why are Booker and Elizabeth in Rapture? It's still a bit too early to call.
Burial at Sea will consist of two separate episodes. The player will take control of Elizabeth in Part 2, which Levine hinted at being more of a stealth/survival horror experience. No release date has been announced for either of the Burial at Sea episodes, but the first episode will enter beta soon. All DLC in the Season Pass will be released before the end of March next year.
Have any ideas about where the story might take us? 
Check out the short trailer below:
---
Ad blocker interference detected!
Wikia is a free-to-use site that makes money from advertising. We have a modified experience for viewers using ad blockers

Wikia is not accessible if you've made further modifications. Remove the custom ad blocker rule(s) and the page will load as expected.