Comments

8
Updates from PAX East, and good news on the Protector Trials
Ad blocker interference detected!
Wikia is a free-to-use site that makes money from advertising. We have a modified experience for viewers using ad blockers

Wikia is not accessible if you've made further modifications. Remove the custom ad blocker rule(s) and the page will load as expected.
Yesterday, Irrational Games talked in depth about the process of making BioShock Infinite in their panel "From Background To Center Stage: Building Game Worlds As Main Characters" at PAX East. You can see a full video of the panel at the G4TV website: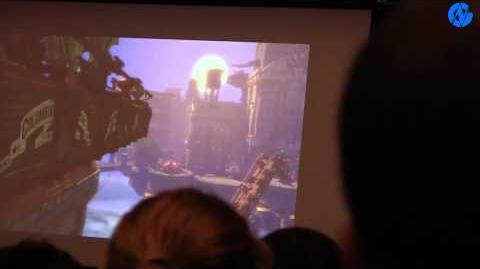 A clip from the panel.
During the panel, Irrational Games discussed their inspirations for making Columbia and the Sky-Lines. They showed concept art from their first ideas of a floating city when the colors still resembled the dark, murky depths of BioShock. They also showed a video of an early prototype of the Sky-Lines (seen in the clip above).
You can see some still images from the panel's slideshow in the articles below:
Images from PAX East
[Update]
Check out the Irrational Games blog summaries of their panel and the PAX East experience:
G4TV has uploaded footage of their Feedback Live interview with Ken Levine at PAX East:
The Protector Trials
After a long period of waiting, 2K Games community manager Elizabeth Tobey has finally announced that the Protector Trials will be coming to the PC on March 14th- just a day away. After a long period of silence and false starts, this late warning is quite a surprise. As promised, the Protector Trials will be completely free for download. Tobey has also promised a small patch for some existing issues. Read the full details here: [11]