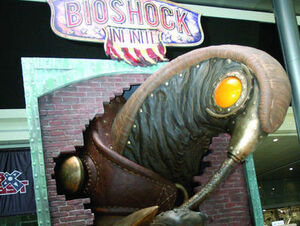 Irrational Games has revealed more information about the events they will be involved in at PAX East.
Schedule
For a full schedule of PAX East events, see the official website.
Each day before 11:45am - Handout of raffle tickets for signed, NECA-made BioShock Splicer masks at the Irrational Games booth in the North Lobby of the convention center.
Each day at 12pm - 3 winners of the Splicer masks announced at the Irrational Games booth.
Each day at 1:00pm and 3:00pm - Free swag handed out at the Irrational Games booth.
"
Our PAX East-exclusive t-shirts have arrived, and you're going to want to pick one up at the show this weekend at the Boston Convention Center. After all, how else are you going to own a piece of apparel featuring a dog in a wheelchair? ... Stop by the hard-to-miss statue of Him out in the North Lobby of the convention center to pick yours up.
"
5:00pm Friday, March 11 - "From Background To Center Stage: Building Game Worlds As Main Characters" in the Manticore Theater, and handout of tickets to the Saturday night event at M.J. O'Connor's for people standing in line.
"
Key Irrational developers will answer that question during an in-depth panel at PAX East in Boston this March, with BioShock Infinite materials ranging from concept sketches to fully formed scenes. Creative director Ken Levine, art director Nate Wells, lead artist Shawn Robertson, and senior effects artist Stephen Alexander will show not just how Columbia was created from a technical standpoint, but how it was originally conceived and how it became a key character at the heart of BioShock Infinite.
"
3:30pm Saturday, March 12 - G4 Feedback Live in the Manticore Theatre.
"
Ken [Levine] will chat with G4's Adam Sessler, Kevin Kelly, Matt Keil, and Nikole Zivalich about pretty much anything relating to video games– the G4 folks promise "honest thoughts, obscure literary references, and expert insight into the issues you really care about."
"
5pm Saturday, March 12 - Signing session with Ken Levine, Nate Wells, and Shawn Robertson at the Irrational Games booth.
"
Bring your copy of BioShock, other Irrational-made game, or Irrational stuff for them to sign!
"
Saturday night, March 12 - Irrational Games invite-only fan event in M.J. O'Connor's within the Westin Boston Waterfront Hotel.
"
On Saturday night, we'll be taking over M.J. O'Connor's inside the Westin Boston Waterfront Hotel directly adjacent to the convention center, to chat with fans, offer free food and drinks, play board games, and raffle off some very exclusive prizes.
"
For those who cant attend the convention, G4TV's X-play promises to "devote three full episodes to PAX on March 15, 16 and 17 at 6:30pm ET / PT, with a special airing of the live audience show on Saturday, March 19 at 3pm ET / PT." Source: [2] And of course, many gaming news sites will provide updates on the convention throughout the weekend.
Ad blocker interference detected!
Wikia is a free-to-use site that makes money from advertising. We have a modified experience for viewers using ad blockers

Wikia is not accessible if you've made further modifications. Remove the custom ad blocker rule(s) and the page will load as expected.