Below is a summary of BioShock news in October.
BioShock Infinite at NYCC
On Saturday October 15th, Ken Levine and the voice actors of Booker DeWitt and Elizabeth (Troy Baker and Courtnee Draper) were at the New York Comic Convention to provide autographs for fans. People who attended the signing received a free BioShock Infinite lithograph, and had a chance to win one of ten BioShock toy bundles from NECA collectables.
After the event, several Irrational Games team members met with fans at the McGarry's Pub and raffled off Murder of Crows bottles and other assorted goodies. Everyone who attended the pub event will be given a free copy of BioShock Infinite when it is released.
More information:
After the convention was over, Irrational Games gave away ten more Infinite lithographs to lucky winners on Twitter: [1][2][3]
PC Gamer Digital Episodes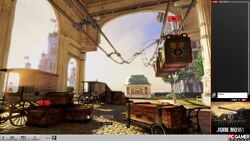 In the second digital episode of PC Gamer, the Irrational team provides commentary on some panoramic scenes from the BioShock Infinite demos. The format is reminiscent of the developer commentary included in some Valve games. Check out the Steam store page for the application and download it to find out more: PC Gamer Digital Episode 2 on Steam
The fourth digital episode also includes an interview with Ken Levine in which he discusses what makes PC gamers different from gamers on other consoles. PC Gamer Digital Episode 4 on Steam
Interviews
"BioShock Infinite: Ken Levine talks us through his new dystopia"
In an interview with ComputerandVideoGames.com, Ken Levine reals a bit more of Elizabeth's back-story and why both the Vox Populi and The Founders are so obsessed with her.
"
The Vox Populi believe that the city is corrupt, so they want to demonstrate to the workers and the downtrodden of the world that this symbol of American imperialism has to fall. A prophecy says that if Elizabeth falls then the city falls with her. So they want her dead.
"

—ken Levine
"BioShock: Infinite - The Making of the E3 Demo"
GameSpot hosts a video commentary on the BioShock Infinite E3 demo in which Ken Levine, Nate Wells, and Shawn Robertson reveal some of their creative process when making the demo. GameSpot also interviewed Levine about things revealed in the E3 demo.
"
In the execution scene, you could do three things. You could start shooting, and it would probably play out in a roughly similar fashion to what you saw because what Booker was trying to do when he performed that action was say, "Hey, leave him alone. He's just a postman." He was trying to diffuse the situation in a nonviolent way. So, there are basically three things that could happen. He can start combat just by using his traditional tools. He could do nothing and see what happens, but we can't reveal what would happen [in this case]. Then he could try, and in this case fail, to diffuse the situation verbally. It's because he failed that it led to combat, but potentially, he could've succeeded in a different situation. But you can just start shooting, and whatever content that would've happened between taking that action would just not be seen.
"

—Ken Levine
"Irrational's Ken Levine on BioShock's final boss and how Infinite's solution is 'more in our wheelhouse'"
In an interview with Joystiq, Levine promises not to have a Fontaine-like boss battle in Infinite.
"Ken Levine Breaks Down The Horror and Political Influences In BioShock Infinite"
Complex.com interviewed Ken Levine while he was at NYCC. The interview doesn't contain any new information, but Ken Levine does mention the Tea Party and Occupy Wall Street movements along with some works of art that inspired BioShock Infinite.
"Ken Levine gives us an update on BioShock for PlayStation Vita"
In another interview with Joystiq, Levine discussed Irrational Games' budding plans for a BioShock game on PlayStation Vita.
BioShock Halloween Costume Contest
Irrational Games is hosting a BioShock costume contest. Contestants can submit images of their costumes inspired by BioShock and BioShock Infinite. There will be separately judged categories for each game, and the first and second place winners for each category will receive prizes. First place gets a signed Murder of Crows Vigor bottle, and second place gets a signed BioShock Infinite lithograph. The submission period lasts until November 8, 2011 at 12:00pm ET. For more information, see the Irrational Games blog: "Halloween Costume Contest"
Other minor news
Ad blocker interference detected!
Wikia is a free-to-use site that makes money from advertising. We have a modified experience for viewers using ad blockers

Wikia is not accessible if you've made further modifications. Remove the custom ad blocker rule(s) and the page will load as expected.