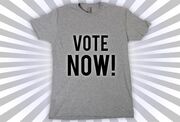 Back in last week's
blog post
, I mentioned that Irrational Games announced a contest for making a design for their T-shirt. As limiting as it was in it's deadline, they did select the top 5 entries. Now, they want us to choose which one of the 5 entries will become the new official shirt for Irrational Games and for BioShock Infinite. The entries can be found in the link:
http://irrationalgames.com/insider/bioshock-infinite-t-shirt-design-contest-poll/
Voting ends Monday, August 1st at 11:59PM.
Ad blocker interference detected!
Wikia is a free-to-use site that makes money from advertising. We have a modified experience for viewers using ad blockers

Wikia is not accessible if you've made further modifications. Remove the custom ad blocker rule(s) and the page will load as expected.