Comments

23
EGM's reveal of Booker DeWitt in this month's issue
Ad blocker interference detected!
Wikia is a free-to-use site that makes money from advertising. We have a modified experience for viewers using ad blockers

Wikia is not accessible if you've made further modifications. Remove the custom ad blocker rule(s) and the page will load as expected.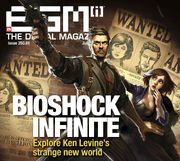 Electronic Gaming Monthly just released a sneak peak of this month's upcoming issue, with a reveal of Booker DeWitt. They also have a digital copy of their issue here, along with a lengthy interview with Ken Levine and the influences of Columbia. You can check it out here.
Update: According to Ken Levine's Twitter , the cover art was inspired by this iconic cover for X-Men # 141