it was revealed at both E3 and Playstation's Facebook page that one of the new playable fighters for Playstation All-Stars: Battle Royale was the Big Daddy Bouncer from BioShock (along with Nathan Drake from Uncharted). The Bouncer is the first multiplatform character confirmed in Sony's attempt for a crossover fighting game featuring Playstation's iconic characters.
UPDATE: On the July 16th episode of X Play, a hands-on preview of the game, reveals that besides the signature drill and dash moves, will also allow Plasmid abilities Electro Bolt and Incinerate! (which despite being an ability for an Alpha Series, is a first for the Bouncer). A finishing move was briefly seen, which appears that the Bouncer floods the level, instantly drowning other players. The Bouncer's defeate is similar to its defeate in the BioShock games, where a Little Sister appears, crying over it.
http://www.g4tv.com/videos/59890/playstation-all-stars-battle-royale-hands-on-preview/
07/29 Update: According to both The Examiner and the Neogaf forums , a few players were able to discover a few unannounced details on the PS3 version of the game's Beta through the data files. Its revealed that not only will there be a Little Sister as the Big Daddy's "minion" character, but there's also an alternate costume (which somewhat resembles the alternate makeshift doll from BioShock 2). But surprisingly, there was the inclusion of BioShock Infinite-related content, such as the Murder of Crows Vigor as a useable item, and a stage resembling Columbia. *Note: Before speculating this info into connecting Columbia and Rapture's story lines, its not yet mentioned if a character from Infinite will also be included (either in the finalized game or as DLC).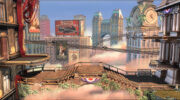 Ad blocker interference detected!
Wikia is a free-to-use site that makes money from advertising. We have a modified experience for viewers using ad blockers

Wikia is not accessible if you've made further modifications. Remove the custom ad blocker rule(s) and the page will load as expected.