Even though the big announcement for BioShock fans was that October 16th of this year is the official release date for BioShock Infinite, that didn't end there. On last Wednesday, X-Play concluded their episode with what's to come for next week, with this message: "We got an exclusive trailer for BioShock Infinite..", which at first, I thought it was just something to relate to the release date. But on their site, they reveal details that there will be "an exclusive look at a new enemy and weapon in BioShock Infinite ". Although Irrational Games has yet to say anything about it, its been some of the talk around the forums, and on Tuesday's X-Play revealed that the trailer will premier on this Wednesday's episode. With that said, let's hope to see what weapon Booker will wield, and who he'll be up against on X-play at 6:30 pm.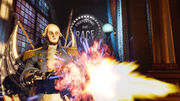 Update: the episode's summary hinted some tidbits about the weapon and enemy, which turn out to be the Motorized Patriot and Pepper-Mill. Also, X-Play mentions that this content is a start of weeks of their 4 upcoming BioShock Infinite exclusives.
In related news, G4 and IG is planning the greatest BioShock-themed cosplay meet up for Pax East on Saturday, April 7th. For details, check the blog links for Irrational Games and G4 .
Ad blocker interference detected!
Wikia is a free-to-use site that makes money from advertising. We have a modified experience for viewers using ad blockers

Wikia is not accessible if you've made further modifications. Remove the custom ad blocker rule(s) and the page will load as expected.