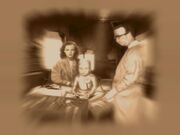 You heard it. As Ken Levine ended his demonstration for BioShock Infinite at the Sony conference ( see previous article here ), he concluded with a surprise announcement about a new BioShock game for Playstation's NGP, or Playstation Vita. No further detailes were mentioned, other than it's set in the BioShock universe, and was a "pet project" that the company had been working on for three years, which they haven't found a suitable console home for it until the NGP. Hopefully, we won't have to wait too long.
Update: Levine mentiones in a couple interviews that the game won't be a port of the original, but will be a "core" game that's based on one of the concepts Irrational removed from BioShock Infinite.
http://www.pocketgamer.co.uk/r/NGP/BioShock+NGP/news.asp?c=30441

http://www.1up.com/news/bioshock-vita-all-new-core-game

http://www.play.tm/news/33686/levine-bioshock-on-ps-vita-will-be-strange-and-surprising/
In related news, Ken Levine gave some support for Nintendo's Wii U, especially for the possible prospects for the console, and for Nintendo finally listening to the hardcore gamers. Other than that, he didn't mention Irrational developing any game for the system.
Ad blocker interference detected!
Wikia is a free-to-use site that makes money from advertising. We have a modified experience for viewers using ad blockers

Wikia is not accessible if you've made further modifications. Remove the custom ad blocker rule(s) and the page will load as expected.