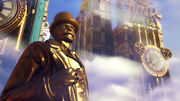 Much like what was mentioned in D. Ryan's Blog, The 2011 VGAs is days from premiering with nominations for Most Anticipated Game , along with BioShock Infinite's new gameplay. To settle the tension, GTTV's Geoff Keighley Tweeted this image of a new building in Columbia called Fink Manufacturing. Although brief, it's a teaser of what's new in the upcoming gameplay, so we'll see what Columbia (and Irrational Games) will bring us.
Also, wether or not we'll see this in the gameplay or through screenshots, there's a hint by Levine of the return of Columbia's Handyman. Who knows what to expect in seeing how refreshed this Auto-Bodied giant will look after over a year of being absent?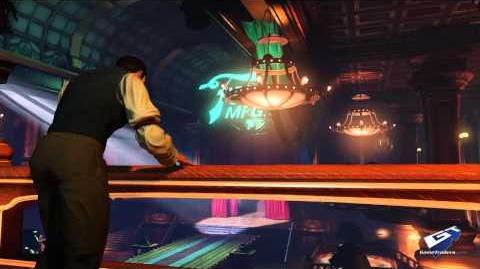 UPDATE!: Yep, the trailer for the gameplay delivered, and it was AWESOME! Other than a few shots of the original videos, glimpses of the game show that Fink Manufacturing is an explorable building, along with Elizabeth putting flowers to the dead, citizens grieving, Booker able to knock an enemy with a Sky-Hook. Plus, there is a return of Handyman. Wether or not he's revised or another version, this Handyman has a new face, and when I mean new, I mean mostly bald and shaven, with a black-eye, and wearing a dark colored torn outfit, similar to the patriotic suit the original Handyman was wearing.
Ad blocker interference detected!
Wikia is a free-to-use site that makes money from advertising. We have a modified experience for viewers using ad blockers

Wikia is not accessible if you've made further modifications. Remove the custom ad blocker rule(s) and the page will load as expected.