So it's D.Ryan here, back for a short period of time, here to give you a few spoilers on the game, I actually beat the game today, I must say the ending was brilliant! So Yeah I'll give you a few spoilers in this short blog post, and before I go on.
YOU HAVE BEEN WARNED, IF YOU DO NOT WANT TO KNOW THESE SPOLERS I SUGGEST YOU TURN BACK AND GO IN WHICH YOU CAME!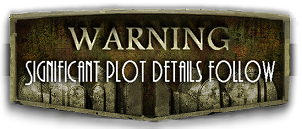 Spoliers
Now I'm not one to be to keen of a listener, I'm very forgetful, and I was mesmerized by the game and plot itself to remember anything really important so forgive me if I forget anything.
Let the spoling begin!
You are actually Booker DeWitt and Zachary Hale Comstock.
Elizabeth is actually your daughter.
There is a tear in which you go to Rapture! (This blew me away! My heart was racing for sheer joy, or excitement either one.
Comstock is known as 'The Prophet' amongst Columbians.
Comstock forecibly seceded Columbia from the Union of the United States and disappeared into the clouds.
Saltonstall does not make an appearance unfortunately, however you do see his scalp in the game hanging in the game.
The Song Bird is controlled by an instrument.
The Lighthouse symbolises windows/doorways into other tears (This is better explained by Elizabeth in the ending of the game.)

And these are all the spoliers I can remember (at the moment) give me at least a few days to remember all of them correctly.
See you soon! (Hopefully)
Ad blocker interference detected!
Wikia is a free-to-use site that makes money from advertising. We have a modified experience for viewers using ad blockers

Wikia is not accessible if you've made further modifications. Remove the custom ad blocker rule(s) and the page will load as expected.