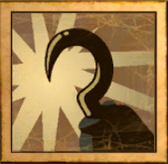 This is a one-level plasmid, it can't be upgraded.
This plasmid lets the player climb on walls and ceilings for a limited amount of time. The EVE meter is the timer, while using this plasmid your EVE drops continuously, until your EVE runs out, or you stop climbing on walls and ceilings. This plasmid is also used to get into secret areas, and the extra Upgrade Machines.
EVE Saver: Isn't it obvious?
Night Eyes: would help for extremely dark areas.