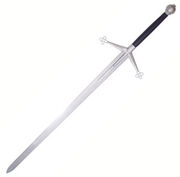 This Armored Enemy is an exceptional sword fighter, they are masters of blade weapons. Their Little Sister is afraid to sit on them, so they carry their Little Brother instead.
They have a suit almost covered in spikes and blades.
Broadsword, Highland Claymore, and various spikes on suit. The Dash Plasmid. They have the Natural Camouflage, Sports Boost 2, and the Brute Strength Gene tonics.
Level 1: +Damage to this Big Daddy
Level 2: ++Damage to this Big Daddy
Level 3: +10% movement speed
Level 4: Invent Meister Gene Tonic
Level 5: Photosynthesis Gene Tonic
They will seek to close the distance between them and you very quickly by using the Dash Plasmid. They will try to hide and ambush you, using their Little Sister as bait.
Ad blocker interference detected!
Wikia is a free-to-use site that makes money from advertising. We have a modified experience for viewers using ad blockers

Wikia is not accessible if you've made further modifications. Remove the custom ad blocker rule(s) and the page will load as expected.