Ad blocker interference detected!
Wikia is a free-to-use site that makes money from advertising. We have a modified experience for viewers using ad blockers

Wikia is not accessible if you've made further modifications. Remove the custom ad blocker rule(s) and the page will load as expected.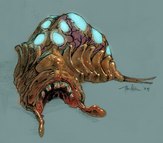 These monstrocities are what resulted from experimenting on splicers and animals in the same vein as Sofia on Gil Alexander. Except with the artistic and relational talent of Steinman and Cohen, and these crazed beasts didn't leave careful instructions on how to kill them.
Harvestman: Brute + Spider:
Daddy-Long-Legs: Spider + Slicer:
Animus: Cyber + a spliced animal + old Splicer
Lycan: Dire Wolf + Thuggish
Ursine: Cave Bear + Brute
Skybourne: Great Albatross + Nitro
Selachii: Great White Shark + Houdini
Draco-Rex: Komodo Dragon + LeadHead
Master Tactician: Houdini + Cyber + Leech:
Special 1: Gil 2.0: Armor-plated Gil Alexander from Bioshock 2 that can dig under the ground.
Special 2: Rex Chimerion:
Harvestman:
Daddy-Long-Legs:
Animus:
Lycan:
Ursine:
Skybourne:
Selachii:
Draco-Rex:
Master Tactician: Swain? kidding
Note: The special Splicers will be covered in more detail on the upcoming Bosses Page! Also this page will be filled in later, as the exact deatils form in my brain, but any input is appreciated and will be credited.
Level 1:
Level 2:
Level 3:
Level 4:
Level 5:
Level 6:
Harvestman:
Daddy-Long-Legs:
Animus:
Lycan:
Ursine:
Skybourne:
Selachii:
Draco-Rex:
Master Tactician: