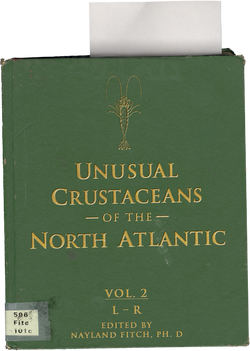 Unusual Crustaceans of the North Atlantic: Volume 2 is a book edited by Nayland Fitch, PH. D., that was used by Mark Meltzer in There's Something in the Sea to help him solve Lutwidge's riddle and open the second level of the Metal Box puzzle. From this book, Mark gained the information to input the correct name of a deep sea crustacean into the 4x4 grid and gain access to the next stage of the puzzle. This book was given to Mark by Roscoe Inman, a member of the United States Office of Naval Intelligence, who aids Mark in his investigations.
The editor, Dr. Nayland Fitch, was also the involved with the research vessel, Ice Beagle, which disappeared within the Frozen Triangle in 1956.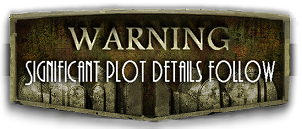 There's Something in the SeaEdit
Main article: There's Something in the Sea
In the course of Something in the Sea, the audience never gets to read anything beyond the cover of this book. However, observant readers will notice that this book is "Volume 2" in a series, covering crustaceans with names beginning from "L" to "R." This is a small clue to the correct password of the 4x4 puzzle; "Phronima."
Ad blocker interference detected!
Wikia is a free-to-use site that makes money from advertising. We have a modified experience for viewers using ad blockers

Wikia is not accessible if you've made further modifications. Remove the custom ad blocker rule(s) and the page will load as expected.