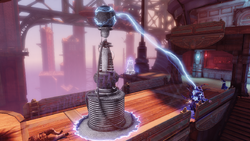 Tesla Coils are enviromental hazards that can be summoned through Tears by Elizabeth in BioShock Infinite. They can be used to electrocute nearby enemies with volts of electricity. They can be summoned via Tears in Finkton and Emporia in single player. They also appear on every level in Clash in the Clouds.
Tesla Coils can be used to stun enemies for long periods of time while also inflicting small amounts of damage.
While they are not long-ranged, they are useful for slowing down groups of enemies pursuing Booker DeWitt.
Basic enemies (such as police officers) take roughly 25% damage per bolt of electricity.
Behind the Scenes
Edit