Sightseer is an Achievement/Trophy in BioShock Infinite. The Achievement is worth 50 Gamer Score and the Trophy is bronze.
| | | |
| --- | --- | --- |
| " | Description: Used all telescopes and Kinetoscopes in the game. | " |
Requirements
Edit
The player will have to use every Telescope and Kinetoscope in the game.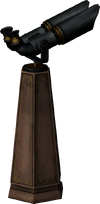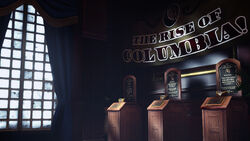 There are 37 different Telescopes and Kinetoscopes in the game.

11 Telescopes.
26 Kinetoscopes.

The first Kinetoscope is "Father Comstock's Gift of Prophecy" and the last is "Battleship Falls".
The first Telescope is found in the Town Center and the last is found on the Hand of the Prophet.
The player will not have to watch a full Kinetoscope film for it to count towards the Achievement/Trophy, but simply use it.
Some Kinetoscopes are encountered more then once in a different location, but the player will only have to use one of the machines. The Kinetoscopes that appear more than once are:
The Kinetoscopes found in Clash in the Clouds and Burial at Sea - Episode 2 does not count towards this Achievement/Trophy.
For the Kinetoscope locations, see the main page for the Kinetoscope.
For the Telescope locations, see the main page for the Telescope.
If you note that you missed a Telescope or Kinetoscope after progressing beyond the location, simply go to the main menu of the game and load up that chapter.
Behind the Scenes
Edit
The Achievement/Trophy icon depicts a man using a spyglass.
Ad blocker interference detected!
Wikia is a free-to-use site that makes money from advertising. We have a modified experience for viewers using ad blockers

Wikia is not accessible if you've made further modifications. Remove the custom ad blocker rule(s) and the page will load as expected.