Transcript:
These Rapture men, they are the strongest, the brightest, yes all of this, yet: they are just men. Oh, how strong they are, how intelligent, how sensitive, until they look into my eyes! And there, they see themselves as if for the first time. This they never survive. How it hurts me to see what they find in my eyes.
Location: On the couch in the player's apartment.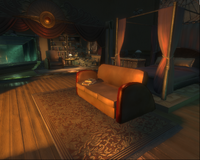 Ad blocker interference detected!
Wikia is a free-to-use site that makes money from advertising. We have a modified experience for viewers using ad blockers

Wikia is not accessible if you've made further modifications. Remove the custom ad blocker rule(s) and the page will load as expected.