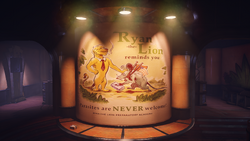 "Hello children. I am Ryan the Lion. I'm here to tell you about Peter the Parasite..."
― Andrew Ryan
Ryan the Lion is the mascot of Ryan the Lion Preparatory Academy. Named for and representing Andrew Ryan, Ryan is a children's propaganda character symbolizing Rapture's economic ideal, and is often seen facing off against his natural enemy, Peter the Parasite.
Behind the Scenes
Edit
Ryan the Lion and Peter the Parasite are a cynical reworking of Aesop's fable, "The Lion and the Mouse." The original fable teaches the lesson that even the smallest contribution can be significant, while the Rapture equivalent extols Objectivism.
The Ryan the Lion & Peter the Parasite propaganda posters were designed by Kat Berkley,[1] who also made the slides for the educational shorts in one of the classrooms.[2]
Ryan the Lion and Peter the Parasite are the Rapture version of Dimwit & Duke from Columbia.
References
Edit
↑ #IrrationalJobs - Proudest Moments on YouTube
Ad blocker interference detected!
Wikia is a free-to-use site that makes money from advertising. We have a modified experience for viewers using ad blockers

Wikia is not accessible if you've made further modifications. Remove the custom ad blocker rule(s) and the page will load as expected.