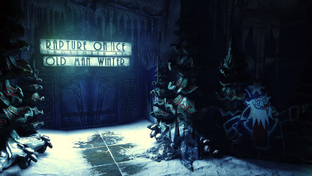 Rapture on Ice is an artificial ice skating rink at Fontaine's Department Store, appearing in Burial at Sea - Episode 1. It is here that Booker DeWitt and Elizabeth face off against Frosty Splicers and recover the Old Man Winter Plasmid. The rink is part of Jack Frost's Village and also incudes a souvenir stand and skate rental. The centerpiece of the ice staking rink is a large statue of Jack Frost himself. The existence of the ice skating rink is one of the many leisure activities established by Frank Fontaine for the people of Rapture, such as the Rapture Open in Dandy Dental.
Ad blocker interference detected!
Wikia is a free-to-use site that makes money from advertising. We have a modified experience for viewers using ad blockers

Wikia is not accessible if you've made further modifications. Remove the custom ad blocker rule(s) and the page will load as expected.