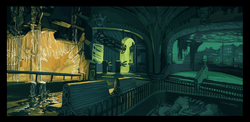 The Rapture Zoo was an area that was intended to be included in BioShock as a part of Fort Frolic.[1] Multiple interviews with developers of the game mention that this was a level that was ultimately cut fairly far along in the design process due to budget[2] and time constraints, and they indicate that it was one of the things they most regretted having to cut. Not much is known about the Zoo apart from concept work, but the only concrete information comes from an interview that mentions that it would have included an elephant.[3]
Behind the Scenes
Edit
References
Edit
↑ Bonus Round, Episode 10: Part 1 - BioShock: A Look Inside, GameTrailers.com
Ad blocker interference detected!
Wikia is a free-to-use site that makes money from advertising. We have a modified experience for viewers using ad blockers

Wikia is not accessible if you've made further modifications. Remove the custom ad blocker rule(s) and the page will load as expected.