Transcript:
Today, I was approached by a golem in a diving suit. I looked into his mind and it was all screams and their echoes... a cold and hollow infinity whose sole occupant was a warped, painful howling... bleeding out into the indifferent void.
Location: On the couch in the player's apartment, unlocked at Rank 29.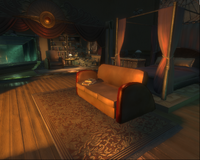 Ad blocker interference detected!
Wikia is a free-to-use site that makes money from advertising. We have a modified experience for viewers using ad blockers

Wikia is not accessible if you've made further modifications. Remove the custom ad blocker rule(s) and the page will load as expected.