Transcript:
I got me a handsome collection of felines, topside, of all shapes and sizes. Ain't no woman alive could part me from my pussy cats. And here's ol' Andy Ryan tryin' to tell me I can't bring my babies down here? Well sorry Andy, but 'chu are not my daddy! No man tells me what I can or can't do!
Location: On the couch in the player's apartment.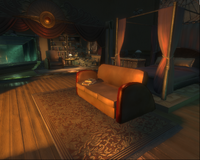 Ad blocker interference detected!
Wikia is a free-to-use site that makes money from advertising. We have a modified experience for viewers using ad blockers

Wikia is not accessible if you've made further modifications. Remove the custom ad blocker rule(s) and the page will load as expected.