"There is something more powerful than each of us, a combination
of our efforts, a Great Chain of industry that unites us."

- 

Andrew Ryan

---

This article, or section of an article, is a stub.


It is too short to provide more than rudimentary information about a subject. Would you kindly help BioShock Wiki by

expanding it

?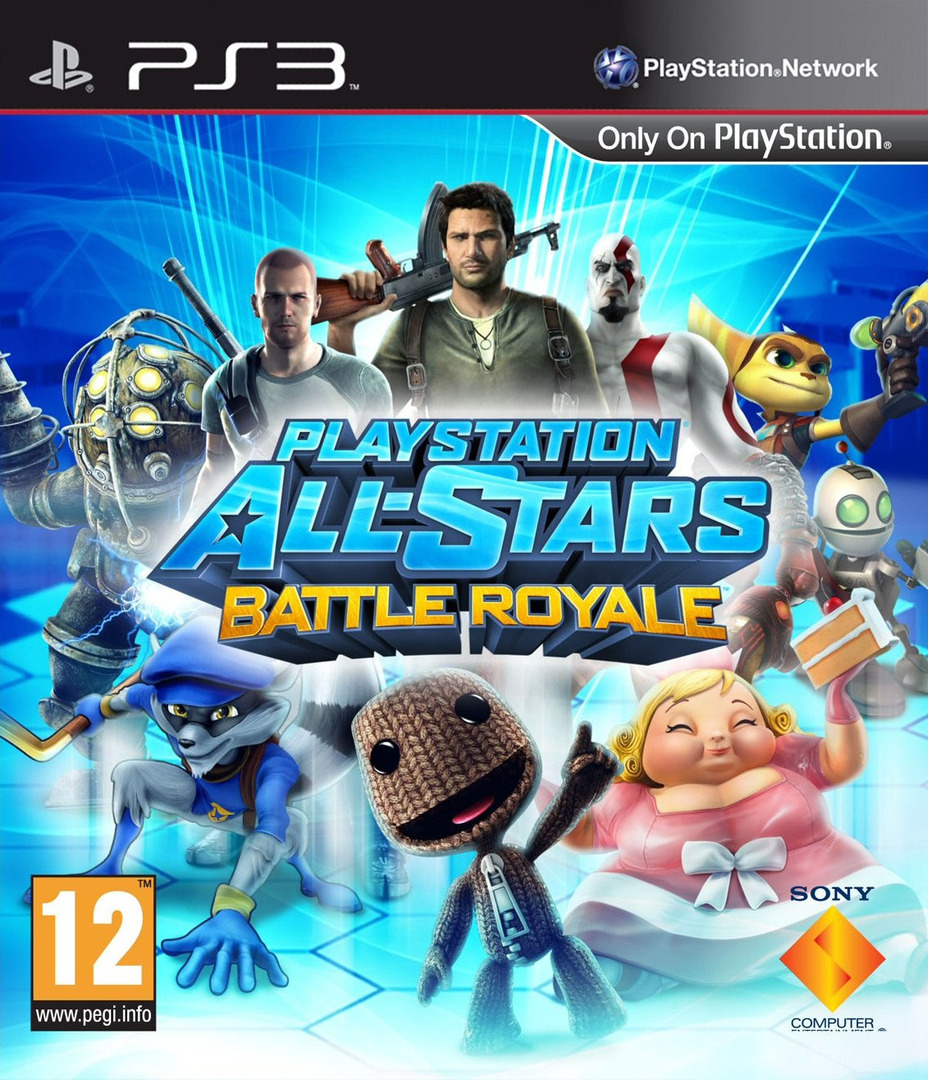 PlayStation All-Stars: Battle Royale, often abbreviated as PSASBR or PASBR and originally named Title Fight, is a crossover fighting game, developed by SuperBot Entertainment, and published by Sony Computer Entertainment for the PlayStation 3 video game console. It was revealed on April 26, 2012 during the GTTV television show.[1] It was revealed at both E3 2012 and PlayStation's Facebook page that one of the new playable fighters for PlayStation All-Stars: Battle Royale was the Big Daddy Bouncer from BioShock (along with Nathan Drake from Uncharted). The Bouncer is the first multiplatform character confirmed in Sony's attempt for a crossover fighting game featuring PlayStation's iconic characters.
Storyline in Arcade Mode
Edit
In a non-canonical story in the game, a Plasmid-enhanced Bouncer (referred in the game as simply "Big Daddy") and his Little Sister were just finding ADAM in Rapture. Suddenly, and abruptly, they're transported into an arena-like universe to fight the PlayStation All-Stars in their own different universes.
Near their journey, the Big Daddy and the Little Sister come across Sackboy (from Little Big Planet), who Little Sister admires for its cute and soft appearance. As Sackboy and Little Sister play jump-rope, Little Sister proclaims that she and Sackboy will never be separated by the likes of Big Daddy. Confused and enraged, the Big Daddy revs up its drill, preparing to fight the cloth-and-cotton intruder.
After their fight, they encounter Polygon Man, the original Mascot for PlayStation brand, who manifests as an End-Boss, summoning polygon-like versions of the PlayStation All-Stars to fight Big Daddy. After Polygon Man's defeat, both Big Daddy and Little Sister are transported back to Rapture. Both walk out, as if nothing happened, but not before a strange blue aura glows around Big Daddy.
Unlike conventional Bouncers, this Big Daddy is enhanced with Plasmids, such as Electro Bolt and Incinerate!,[2] along with a radio, emitting quoted speeches from Andrew Ryan.
Moves List
Edit
For a list of moves in PlayStation All Stars Battle Royale, see Big Daddy on the PlayStation All-Stars Wiki.
Note: All quotes are said by Andrew Ryan, via radio:
Big Daddy's debute on the E3 Trailer for PlayStation All-Stars: Battle Royale.
Behind The Scenes
Edit
References
Edit
External Links
Edit
Ad blocker interference detected!
Wikia is a free-to-use site that makes money from advertising. We have a modified experience for viewers using ad blockers

Wikia is not accessible if you've made further modifications. Remove the custom ad blocker rule(s) and the page will load as expected.