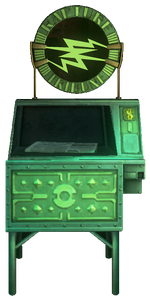 News Vendor machines are found throughout Rapture in BioShock, BioShock 2 and Burial at Sea, and usually be found in public places like malls, shops and train stations.
The player cannot interact with the News Vendor machines, and they have no use in-game. However, a vendor can be found outside of the Player's Apartment in BioShock 2 Multiplayer that show the leaderboards.
Rapture Tribune vending machines are usually found in a neglected and dilapidated state, but occasionally the player will come across a new machine in a pristine condition. These pristine machines have a clear glass door and it is possible to see a newspaper inside.
The headlines on the front page of the newspaper read:
Recent Bloodshed Causes Panic
Five Dead in Latest Attacks After Months of Peace
Arcadia Sets Curfew Once Again Due To Outbreaks of Violence
BioShock 2Edit
The same Rapture Tribune vending machines can be found 8 years after the events of BioShock, with the same out-dated newspaper inside.
BioShock 2 MultiplayerEdit
The same Rapture Tribune vending machine can be found at the exit of the Player's Apartment. It can be used to view personal statistics; Rank, amount of acquired ADAM, non-private match stats, time played, favorite character, weapon, Plasmid, and Gene Tonic.
Burial at SeaEdit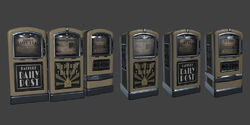 Different newspaper vending machines can be found on Market and High Street, selling not only the Rapture Tribune, but also Rapture Daily Post and Do Tell!.
The headlines on the front of each newspaper reads:
Rapture Tribune
Rapture, 1958: The year that was. An in-depth look at the events that shaped our lives.
Rapture Daily Post
Do Tell!
Ad blocker interference detected!
Wikia is a free-to-use site that makes money from advertising. We have a modified experience for viewers using ad blockers

Wikia is not accessible if you've made further modifications. Remove the custom ad blocker rule(s) and the page will load as expected.