Ad blocker interference detected!
Wikia is a free-to-use site that makes money from advertising. We have a modified experience for viewers using ad blockers

Wikia is not accessible if you've made further modifications. Remove the custom ad blocker rule(s) and the page will load as expected.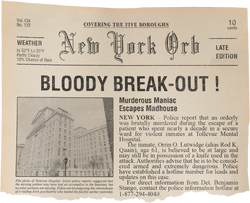 The
New York Orb
was a newspaper that was in circulation at the time of
There's Something in the Sea
. There are 123 known issues published, and the paper actively published an evening edition. The only known headline was "Bloody Break-Out!" and the article itself informed the Orb's readers of
Orrin Oscar Lutwidge's
escape from
Tollevue Mental Asylum
.
Transcript
Edit
BLOODY BREAK-OUT!































File photo of Tollevue Hospital. Initial police reports suggested that
the missing patient may have had an accomplice in the breakout, but
no other patients are missing. Police are investigating the whereabouts
of a visiting Irish psychiatrist who toured the facility earlier yesterday.

Murderous Maniac
Escapes Madhouse
NEW YORK — Police report that an orderly
was brutally murdered during the escape of a
patient who spent nearly a decade in a secure
ward for violent inmates at Tollevue Mental
Hospital.


The inmate, Orrin O. Lutwidge (alias Rod K.

Quain), age 61, is believed to be at large and
may still be in possession of a knife used in the
attack. Authorities advise that he is to be consid-
ered armed and extremely dangerous. Police
have established a hotline number for leads and
updates on this case.


For direct information from Det. Benjamin

Stango, contact the police information hotline at
1-877-294-4040.