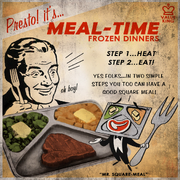 "Yes folks... In two simple steps you too can have a good square meal!"
―Advertisment
Meal-Time Frozen Dinners is a line of frozen meals sold in Rapture that are eaten on metal trays. Its mascot, Mr. Squaremeal, is a guy in a stylish suit with a meal tray for a face.
Burial at Sea Edit
Main article: Burial at Sea
Some of the Splicers trapped in Fontaine's Department Store have cut out the face of the man on the poster to use as a mask to hide their deformities caused by Splicing.
Behind the Scenes
Edit
The ad for Meal-Time Frozen Dinners seems to be based on a 1940s ad for Benedict Peas.