Transcript:
Some kind of metal... workman... nearly killed Susie today. She was trying to make friends with one of those poor little orphan girls with the skin condition! I felt so helpless, and the man reeked of wet dog! Well, never again: Mommy went out and got herself some more special medicine today, and if Daddy doesn't like it...
Location: On the couch in the player's apartment, unlocked at Rank 3.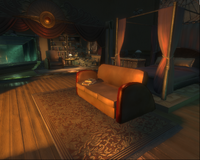 Ad blocker interference detected!
Wikia is a free-to-use site that makes money from advertising. We have a modified experience for viewers using ad blockers

Wikia is not accessible if you've made further modifications. Remove the custom ad blocker rule(s) and the page will load as expected.