"There is something more powerful than each of us, a combination
of our efforts, a Great Chain of industry that unites us."

- 

Andrew Ryan

---

This article, or section of an article, is a stub.


It is too short to provide more than rudimentary information about a subject. Would you kindly help BioShock Wiki by

expanding it

?
"The Founders will bleed!!!"
― Vox Populi Graffiti
The Market District is one of the sub-section of Downtown Emporia connecting the Financial District with the Memorial Gardens and Victory Square. Originally an upper-class commercial district, it housed many fine shops and boutiques.
BioShock InfiniteEdit
Main article: BioShock Infinite
Another branch of the clothing retailer is located here. It has been gutted and burned out as compared to its pristine counterpart in New Eden Square.
Visiting here is required to find the Code Book to decode the Vox Cipher in the Bank of the Prophet.
Passing by the store will also lead into a Fireman ambush.
This liquor store has been locked despite its destroyed back wall. A lockpick can be found outside to help pick the lock. Inside will yield a trove of Silver Eagles as well as an Infusion bottle in the window.
The confectionery is unfortunately gated closed. However, a corpse clutching a bottle of Return to Sender is located nearby.
Inside are several vending machines. Curiously the shopkeeper is still sweeping the floor despite the building being consumed by flames.
A small stand around the corner sells once-fresh fruit. A Dollar Bill machine is located nearby.
Initially, the lab and home of Rosalind and Robert Lutece is gated shut. However, Booker and Elizabeth learn at the Memorial Gardens that they must venture here to learn about one of the "truths" about Lady Comstock. They return to find the gates unbarred, but guarded by Vox Populi.
The studio of Albert Fink has seen better days. Situated across from the Memorial Gardens, the building is unstable and keeps bobbing in and out of street level.
New Discoveries
Edit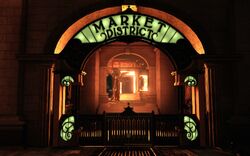 Ad blocker interference detected!
Wikia is a free-to-use site that makes money from advertising. We have a modified experience for viewers using ad blockers

Wikia is not accessible if you've made further modifications. Remove the custom ad blocker rule(s) and the page will load as expected.