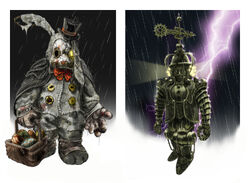 In an early draft for deciding on signature enemies before the game's setting was ever established, some of the concepts revolved around exploring mechanical Automatons in the shape of a "Big Daddy" for the game's setting. According to The Art of BioShock Infinite, one of the concepts using this archetype would have been a group of giant mechanical Toys created by a "Mad Toymaker", who would decorate them to appear as animals in festive outfits.
There were four known designed variants of these mechanical dolls: 
A Rabbit wearing a magician's top hat and tuxedo.
Automaton Watchmen that would guard the city at night.
An Owl in a red, night-themed outfit with retractable blades attached to Jack-O-Lantern styled gloves.
An Elephant, written as "Mr. Trumpet", which would have been similar to Slow-Pro, where it featured a back-mounted cannon that would fire cannonballs when it pulled the rope.
A Moth, written as "the Mothman", which had wings and its head painted like stained glass.
When the game's floating city element became clear, the Mothman would be chosen as its signature flying enemy. The Mothman would go through several design revisions all the while retaining its flying automaton characteristics, from eagles, gargoyles, and even a Big Daddy-like creature, until it eventually was finalized as the Songbird.
Behind the Scenes
Edit
The "Mothman" design for one for the dolls could have been inspired by the legendary Mothman creature spotted in the Point Pleasant area of West Virginia from 1966 to 1967.
Ad blocker interference detected!
Wikia is a free-to-use site that makes money from advertising. We have a modified experience for viewers using ad blockers

Wikia is not accessible if you've made further modifications. Remove the custom ad blocker rule(s) and the page will load as expected.