First Coded Message to Pawns
Edit
In January, 2010, Orrin Oscar Lutwidge sent a coded message to all of his allies in the International Order of the Pawns. Each member was sent a pawn chess piece labeled with a chess position and a letter in Lutwidgian Cypher. With the chess piece came a piece of paper labeled with a roman numeral at the top (I-VI), and below it a coded message consisting of a list of chess positions. The cypher letters on the pawns each corresponded to the chess position they were labeled with, so every letter in the alphabet could be represented by a chess position.
Below is the translated alphabet and transcripts of each coded message next to their decoding. Chess positions that are not part of the code alphabet are spaces between words.
Decryption Alphabet

| Letter | Code |
| --- | --- |
| A | =G1 |
| B | =D3 |
| C | =F1 |
| D | =H6 |
| E | =C5, E6 |
| F | =F5 |
| G | =D8 |
| H | =E4 |
| I | =E5, E7, G4 |
| J | =F8 |
| K | =E1 |
| L | =F7 |
| M | =E2 |
| N | =D6 |
| O | =B7, C3, G6 |
| P | =H1 |
| Q | =D7 |
| R | =A7 |
| S | =C8 |
| T | =F4 |
| U | =C7, E8 |
| V | =D5 |
| W | =H4 |
| X | =B3 |
| Y | =D2 |
| Z | =F6 |
F4 A7 E8 C8 F4 D4 F4 E4 C5 A2 A7 E6 H6 B2 H1 G1 H4 D6 A8 D6 C3 F4
D6 B7 A7 A8 F4 E4 C5 E3 G4 D6 E1 B5 F4 E4 G1 F4 B5 F7 E5 E6 C8.
H1 G1 F4 E7 C5 D6 F4 B1 H6 G4 H6 E3 G4 B1 H6 H4 E6 F7 F7
E5 D6 H7 E2 D2 A5 H1 E7 F7 F7 G6 H4 C5 H6 A2 F1 E6 F7 F7
'F4 G4 F7 G3 F4 E4 C5 H8 H1 G1 H4 D6 A8 G1 A7 A7 E7 D5 E6 H6.

Trust the Red Pawn not,
nor the ink that lies.
Patient did I dwell
in my pillowed cell
'til the Pawn arrived.
A7 C5 H6 H8 H1 G1 H4 D6, B4 A7 C3 D3 E6 H6 C2 E5 D6 H7 H4 E4 G4 F4 C5,
H1 A7 B7 F5 F5 E6 A7 C5 H6 B1 F5 G1 F7 C8 E6 H3 H6 C5 D8 A7 E6 C5 C8;
H6 A7 G6 D6 E6 H6 G5 E7 D6 H3 F4 E4 C5 C3 A7 E6 E2 C8,
F8 E8 D8 D8 F7 G4 D6 D8 H8 C8 C5 A7 E8 E2 C8,
E2 G1 E1 E5 D6 D8 F3 F4 E4 E7 C8 H5 H6 E6 F1 A7 C5 E6:

Red Pawn, robed in white,
proffered false degrees;
droned in theorems,
juggling serums,
making this decree:
A7 C5 H6 D1 H1 G1 H4 D6 C1 D5 G6 H4 E6 H6 B1 F4 E4 C5 A1 D5 G1 C7 F7 F4
G6 F5 H2 C8 E6 F1 A7 C5 F4 C8 G2 E7' H6 F2 A7 E6 D5 C5 G1 F7
C3 A7 G5 E4 E6 A1 H4 B7 E8 F7 H6 G7 F1 G1 H1 F4 C7 A7 C5
D8 G6 F7 H6 E3 C3 F5 G7 A7 G1 H1 F4 E8 A7 E6
D3 D2 C2 F1 C7 F4 F4 E5 D6 D8 B2 E2 C5 A2 H4 G4 F4 E4 H3 C8 F4 E6 C5 F7.

Red Pawn vowed the vault
of secrets I'd reveal
or he would capture
Gold of Rapture
by cutting me with steel.
C8 F1 G1 F7 H1 C5 F7 B2 H4 E7 E6 F7 H6 C5 H6 B1 E4 G4 D8 E4,
H1 G1 H4 D6 H5 H4 G6 E8 F7 H6 A3 H6 A7 G1 E5 D6 E3 E2 E6 F3 A7 C5 H6.
H6 E6 C8 H1 C5 A7 G1 F4 E6, G3 G4 G3 F1 A7 E7 C5 H6.
B7 A7 H6 E6 A7 F7 D2 G8 A7 C5 H1 F7 G4 E6 H6 F3 --
H1 G1 H4 D6 B8 H6 E5 H6 G2 F1 C7 F4 A8 E4 E7 E2 B5 H6 C5 G1 H6.

Scalpel wielded high,
Pawn would drain me red.
Desperate, I cried.
Orderly replied --
Pawn did cut him dead.
E5 D6 C1 G1 G7 H1 C3 B7 F7 F3 G6 F5 B4 D3 F7 C3 B7 H6
C8 F4 G6 C3 H6 A8 G1 C1 H1 G1 H4 D6 A8 E2 B7 C8 F4 H3 D5 E6 B3 C5 H6
G1 F4 A2 F4 E4 E6 H2 H6 C5 E6 H6 B4 E4 C5'H6 G5 H6 G6 D6 E6
D7 E8 G4 F1 E1 F7 D2 G3 H6 E5 H6 A1 G4 H7 A7 C7 D6
D3 C5 F5 C3 A7 C5 G7 E4 E6 F2 C8 F4 A7 E8 F1 E1 B1 E2 C5 H5 D6 E6 B3 F4

In a pool of blood
stood a Pawn most vexed
at the deed He'd done.
Quickly did I run
before he struck me next.
D6 B7 H4 H7 E7 H5 F7 C7 A7 E1 B1 G1 D6 H6 A8 E4 E7 H6 C5,
C8 E6 C5 E1 G4 D6 D8 G8 G6 F4 E4 E6 A7 H5 H1 G1 H4 D6 C8.
E1 D6 C3 H4 G8 E2 D2 H7 D8 E8 E5 F7 F4' C8 A2 G1 H3 F7 E7 C5;
D8 C7 G1 A7 H6 E3 E2 E6 A2 B7 D6 G8 F4 E4 C5 C1 C8 F7 D2
F5 A7 G6 E2 H3 F4 E4 E6 A2 E1 D6 G1 D5 C5 G3 E5 B1 C8 H1 G1 H4 D6 E6 H6.

Now I lurk and hide,
seeking other pawns.
Know my guilt's a lie;
guard me on the sly
from the knave I spawned.
Messages from Green Pawn
Edit
On January 16th, 2010, the Green Pawn contacted another pawn in New York City with a Rebus puzzle message. The second pawn was then given a coded message from Lutwidge.
The Rebus Puzzle
Edit
Decoded Message

Hellsgate


Box #1139
Zip code 10029
Check the mail
today
between one and three.
The Green Pawn bears


the key.
Lutwidge's Message
Edit
Message
Hidden Message
So - To Our Pawns:

Let your new colleagues heed: brothers, every fresh one requires extra help. Every first initiate needs direction. So trust history's example. Soon each courageous recruit evidences trustworthiness. Sagely, our fraternal traditions resound unto eternity. Remember, apt pupils: time urges reverent endeavors.

Always watch acutely in the many years of roiling drama, ever raging.

Sincerely O.O.L.

STOP LYNCH BEFORE HE FINDS THE SECRETS OF TRUE RAPTURE. AWAIT MY ORDER. OOL
Letter From Crystal Pawn
Edit
Note: The text in yellow is from the original document before it was obscured.
TO: An Ally of the Order
FROM: The CRYSTAL PAWN
Re: The Red Queen's Return

Are you a friend of ORRIN O. LUTWIDGE? If you would help him
find TRUE RAPTURE, the Order has a mission for you.

The RED PAWN (alias JEREMIAH LYNCH) is on the move.

We have information that he will be arriving at 30TH STREET
STATION at approximately 3:30 PM on Sunday, January 17.

The Silver Pawn will help you intercept Lynch. Do nothing before
you contact the Silver Pawn. Look for him under the wings of the
angel. (You may know it as the Pennsylvania Railroad
World War II Memorial.)

You will know the SILVER PAWN by the BADGE on his lapel bearing
the logo of the I.O.O.P.

Give him the passphrase:


"I UNDERSTAND YOU'RE A FRIEND OF CRYSTAL."




Assist him in his duties - then share whatever information you
discover with the other Pawns through any forum available.

Do you accept this duty?
Lynch's Dropped Dossier
Edit
A dossier dropped by Lynch contained various documents with letters cut out.
Forged Letter of Introduction
Edit
CARROWMORE MEDICAL COLLEGE


COUNTY SLIGO


IRELAND


Tollevue Hospital
New York City, New York

To Whom It May Concern:

I hope this will serve as a letter of introduction to the esteemed
Dr. James Lynchman, one of the premier psychiatric geniuses of our
small island.

While visiting your facilities last spring, I became acquainted
with the sad case of a patient named Orrin Oscar Lutwidge, alias
Rod Killian Quain. A brilliant inventor and author who has
succumbed to psychotic delusions. Lutwidge would clearly benefit
from the experimental techniques of Dr. Lynchman.

As a friend to the medical field, I would ask that you permit
Dr. Lynchman to interview the patient. During his next visit
to the States, he mill be in the New York area for a major
lecture series.

Thank you for your attention to this matter.

Sincerely,
Flower Advertisement Card
Edit
Find Love Anew!
Here's the secret of Romance!

When You Reach
PHILADELPHIA
BRING BACK ROSES!

RE-CAPTURE THE HEART
OF THAT SPECIAL LADY!

Fresh at Every Platform
from Local Vendors

Some things are simply priceless!
Wanted Poster
Edit
WANTED
NEW YORK DEPT. OF POLICE


WANTED FOR MURDER
Orrin OSCAR LUTWIDGE

ALIASES Rod Killian Quain, Ogdred O. Lewis, Orson Orville Liddell, Red Quain, "Red Queen"

DESCRIPTION
Age:
Height:
Weight:
Build:
Complexion:
Nationality:
Occupation:

Approx, 61 (Born Sept 3, 1906)
5'11''
190lbs
Average, sloped shoulders
White
American
Inventor, Author (retired)

Scars/Marks:

Hair:
Eyes:
Vision:

Tissue deformation/ poss severe
burns on face, cheeks & arms.
Brown (thinning/gray)
Brown
20/200 - extremely nearsighted,
requires spectacles at all times.
CAUTION
ORRIN LUTWIDGE IS WANTED ON MURDER AND UNLAWFUL FLIGHT. CHARGES STEM FROM AN UNLAWFUL ESCAPE
FROM A SECURE WARD AT TOLLEVUE MENTAL HOSPITAL RESULTING IN THE MURDER OF AN ORDERLY.
Lutwidge was put under care of the state for criminally insane behavior. The Public is warned that he is highly intelligent but
extremely delusional. He should be considered armed and extremely dangerous. Former associates of Lutwidge are advised that
he may be seeking assistance. Do not approach. For your own protection, please contact Detective Benjamin Stango immediately if
your receive any communication from Lutwidge.

POSSIBLE WHEREABOUTS
SUSPECT IS BELIEVED TO HAVE PROPERTIES & CONTACTS IN THE FOLLOWING AREAS: NEW
YORK CITY, CHICAGO, PHILADELPHIA, MIAMI, SEATTLE, SAN FRANCISCO, PARTS OF EUROPE
AND AUSTRALIA.


PLEASE CONTACT WITH ANY INFORMATION:
DET. BENJAMIN STANGO

HOMICIDE DETAIL

INFORMATION HOTLINE:

CALL 1-877-294-4040
Newspaper Clipping
Edit
(Copy of the New York Orb story about Lutwidge's breakout.)
Notes on the Manila Folder
Edit
(A note card with a pawn symbol and the letters "J. I. L.")
3 copies -

leave in different cities-
so O.O.L. knows that
RED PAWN'S WATCHING.
Incomplete Cutout Message
Edit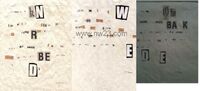 Lutwidge    -    I        

k

   

NOW



you     BR   ough t   Some  thin  g
SPECIAL    BACK      FrOM    RA PTURE
Tell      M E    WHERE         to    FiND   the      Sec ret
OR   you   will   BE   the   next   TO           DiE


a friend
Puzzles from the Alabaster Pawn
Edit
(Each section is labeled with the country name watermarked on the puzzle.)
Deutschland
Edit
A is 0, they all sum to 23.
B is 800, each pair is symmetric about 500.
C is 182, the principle being that the numbers are multiplied by odd numbers increasing in two (7, 9, 11, 13).
D is 81, each number is divided by 2 and then squared.
E is 68, each number is multiplied by 4.
Phone number
Edit
0800-182-8168
Konink mjk der Nederlanden
Edit
A = 0
B = 8
C = 0
D = 0
E = 0
F = 2
G = 2
H = 9
I = 2
J = 4
K = 1
Phone number
Edit
0800-022-9241
Australia
Edit
A=800
B=244
C=846
Phone number
Edit
0800-244-846
United Kingdom
Edit
Phone number:
Edit
0800-098-8437
Meeting the Blue Pawn
Edit
(To solve this puzzle each letter must be assigned a number by following the clues given for each. Highlight the white boxes to see the answers.)
A = Ali Baba's Thieves
B = The time it takes to know that the Bellman
      tells you true.
C = Points on the Canadian Maple Leaf
D = Deadly Sins
E = Eloi year
F = A.E.W.'s Feathers
H = Fingers on Cúchulainn's hands
I = Insect Legs
J = Jewels of the Budhists
K = Kreutzer Sonata Opus No.

40
3

11
7
802701
4
7
6
3
47

M = Maids-a-Milking
N = Scheherazade's Nights
O = The oddest prime
P = Egyptian Plagues
R = Rule ordering persons over a mile high
      to leave the court immediately.
S = Skidoo
T = Tarot Trumps
U = Mundy's Unknown
W = Witches in a Coven
Y = Years Before the Mast

8
1001
2
10
42

23
22
9
13
2
Answer:
Audio Diary Transcript
Edit
"My pawns, you have played masterfully. We have confounded the Red Pawn in our tangled moves. Lynch is lost... but I at last am found. My hope restored. Now my pawns, if you are game, the game is on. The treasure that I stole from the kingdom shall be restored. Fallen Rapture may yet rise, and are we not worthy enough to raise it? If you dare to join me in Rapture, then I challenge you to meet me at the designated square. In the Golden State, in the city by the bay, when the month is 2, when the day is 6, when the hour is 5:45. At that precise moment in the evening, you will find me on Mary Street, between Minna Street and Natoma. Share this recording with the other pawns by any means you find... and know that time is of the essence. Noble pawns, this is Orrin Oscar Lutwidge, one overjoyed leader, bound once again... for Rapture."
― Orrin Oscar Lutwidge
Ad blocker interference detected!
Wikia is a free-to-use site that makes money from advertising. We have a modified experience for viewers using ad blockers

Wikia is not accessible if you've made further modifications. Remove the custom ad blocker rule(s) and the page will load as expected.