Last Man Standing is a Gear in BioShock Infinite which can be equipped in the Pants slot.
Behind the Scenes
Edit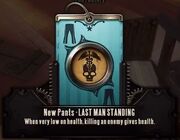 This Gear's name originates from the saying "Last Man Standing", which refers to situations in which the field of participants is narrowed until only a single individual remains.
Ad blocker interference detected!
Wikia is a free-to-use site that makes money from advertising. We have a modified experience for viewers using ad blockers

Wikia is not accessible if you've made further modifications. Remove the custom ad blocker rule(s) and the page will load as expected.