Langford Research Laboratories
Talk

0
"There is something more powerful than each of us, a combination of our efforts, a Great Chain of industry that unites us. But it is only when we struggle in our own interest that the chain pulls society in the right direction..."

- 

Andrew Ryan

---
"There is something more powerful than each of us, a combination
of our efforts, a Great Chain of industry that unites us."

- 

Andrew Ryan

---

This article, or section of an article, is a stub.


It is too short to provide more than rudimentary information about a subject. Would you kindly help BioShock Wiki by

expanding it

?
"Ryan's woman in Arcadia is an old betty named Langford. An okay sort, but not above doing a dirty job for a dollar."
―Atlas
Langford Research Laboratories is a research lab owned by Julie Langford under supervision of Ryan Industries. The lab is located in Arcadia, and contained the main administrative office and observation point of the gardens.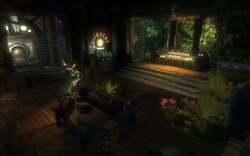 Main article: BioShock
When Jack approaches the lab's main office during BioShock, Langford is gassed by Andrew Ryan in a cruel attempt to coerce Jack. As she chokes, Ryan accuses her of infringing on his copyright of the production and distribution of the Lazarus Vector. In her final seconds of consciousness, Langford scrawls the code to her locked wall-safe upon a window, thereby giving Jack access to the list of resources needed to construct the Lazarus Vector.
The lab contains a research table, misting console, incubator, multiple test tubes, Turrets, diagnostic controls, and the Chemical Thrower.
New Discoveries
Edit
New Weaponry
Edit
BioShock 2 MultiplayerEdit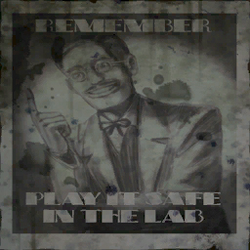 Main article: BioShock 2 Multiplayer
Langford's laboratories also appear in the multiplayer version of Arcadia. Located in the northernmost part of the map, this version of the Laboratories houses little more than a few incubators and bookshelves. A glass container holding a small tree in the center of the room will fill with green gas anytime a player approaches it. Approaching the incubators can cause them to light up with green gas revealing ferns within, but one incubator is broken and will only spark and fill with smoke.
The laboratories can be accessed through two "Employees Only" doors in Arcadia Glens or by taking a stairway up from the flooded lower walkway.
Bugs/Glitches
Edit
  In the Multiplayer, the player can pass through the glass containing the tree by jumping up and into it from the east side.
Behind the Scenes
Edit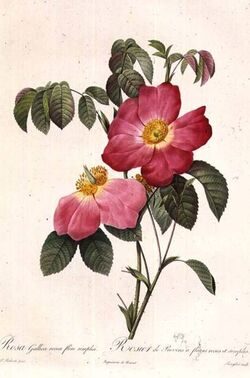 Julie Langford's Rosa Gallica Officialis botanical illustration was redesigned from a Rosa Gallica illustration by Pierre-Joseph Redouté.
In BioShock if the player points their cursor over the sign in the reception area at the entrance to the labs, the subtitled text will read "Professor Holden Langford Research Laboratories." The name and gender differ from the final game's version of the character. This is because the BioShock developers had originally intended Langford's character to be male when they were planning the level.[1]
If the player tries to enter the laboratory before the trees in Arcadia are killed, Dr. Langford will mistake Jack for a member of the Saturnine and yell at him to go away.
References
Edit
↑ "Arcadia Demade", designer commentary by BioShock developer Jean-Paul LeBreton on his blog, vectorpoem.com