"There is something more powerful than each of us, a combination of our efforts, a Great Chain of industry that unites us. But it is only when we struggle in our own interest that the chain pulls society in the right direction..."

- 

Andrew Ryan

---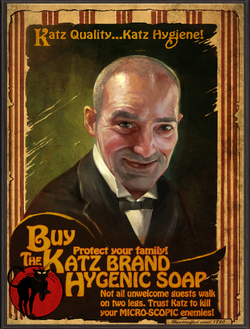 "Not all unwelcome guests walk on two legs. Trust Katz to kill your MICRO-SCOPIC enemies!"
― Advertisement
Katz Soap is a business in Columbia which sells soap. According to their advertisement, they exist since 1820. Other than that, very little is known about the company, except for its advertisements.
Behind the Scenes
Edit
The head of the cat logo is based off of the eponymous feline of Le Chat Noir cabaret whose famous poster was designed by Théophile-Alexandre Steinlen.
Ad blocker interference detected!
Wikia is a free-to-use site that makes money from advertising. We have a modified experience for viewers using ad blockers

Wikia is not accessible if you've made further modifications. Remove the custom ad blocker rule(s) and the page will load as expected.