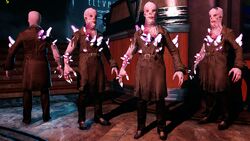 Jockey Splicers are a special type of Splicer that were set to appear in BioShock Infinite's downloadable content, Burial at Sea - Episode 2, but were removed from the final version of the game. These enemies were to have consumed large quantities of the drinkable Plasmid Shock Jockey, and in doing so had suffered severe deformities.
Burial at Sea - Episode 2Edit
Main article: Burial at Sea - Episode 2
The Jockey Splicer was removed in the final version of the DLC. A "cartoon version" of him is briefly seen in the Need to Know Theater - Message Received, Ryan!
Behind the Scenes
Edit
References
Edit
↑ "Nothing beats your first splice. From there, it's all downhill. The frozen frosties, the jockeys who will hand you a thousand volts as soon as they look at you." - Booker DeWitt
Ad blocker interference detected!
Wikia is a free-to-use site that makes money from advertising. We have a modified experience for viewers using ad blockers

Wikia is not accessible if you've made further modifications. Remove the custom ad blocker rule(s) and the page will load as expected.