Ad blocker interference detected!
Wikia is a free-to-use site that makes money from advertising. We have a modified experience for viewers using ad blockers

Wikia is not accessible if you've made further modifications. Remove the custom ad blocker rule(s) and the page will load as expected.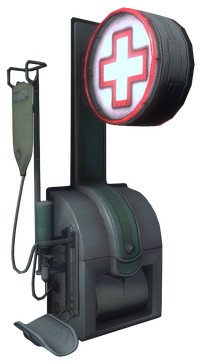 "You'll feel as good as new"
―Advertisement
Health Stations will replenish all of the player's health for a price. Their actual name is Prime Health Unit, seen in many advertisements through Rapture. The unit features an armrest underneath an automated syringe connected to a supply of a stem cell-based concoction that instantly heals all of the user's injuries upon injection.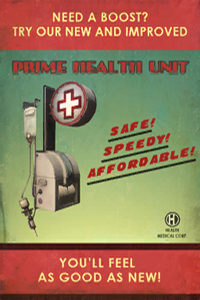 Main article: BioShock
It is possible to destroy a Health Station by dealing some damage to it with any weapon or Plasmid, rendering it unusable. Such destruction produces one to three First Aid Kits. Note that splash damage from weapons, and effects like Static Discharge, might accidentally destroy the Health Station, so make sure to stay away from it during close combat, if one intends to keep it operational. Hacking it will reduce the cost of healing to the player, and cause enemies that use the machine to be damaged or killed. Hacked Health Stations will flash green in order to separate themselves from unhacked Health Stations. On the map, Health Stations are represented by a white cross, surrounded by a faint red outline, regardless of its operational state. It is therefore recommended to verify that the station is indeed operational, as there is no way to repair broken or destroyed ones.
Cost: $16
Use: health restored to 100%
Cost: $10
Use: player's health restored to 100%, Splicers will take continuous damage by a toxic green gas until they die.
Recommended Tonics
Edit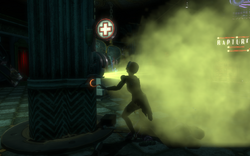 Help Caption
Edit
"

Health stations cost a significant
amount of money but completely
refill your health bar when used.

Successfully hacking a health
station lowers the price of healing,
and will cause that particular station
to deal damage to Splicers who try
to use it.

Destroying a Health Station may
cause some First Aid Kits to spill out,
but the station itself will become
unusable.

"
BioShock 2Edit
Main article: BioShock 2
Cost: $15
Use: health restored to 100%
Cost: $9
Use: player's health restored to 100%, Splicers will take damage.
If Hacked In Blue Area: a free First Aid Kit will drop below.
As with the first game, a destroyed Health Station will drop one First Aid Kit. The least costly way to do this is to melee it with the Drill. However, this method is not effective, as First Aid Kits aren't completely scarce and Hacked Health Stations can finish off foes on any difficulty. As such, it is suggested to leave Health Stations functional and hacked.
Sneaking into a room with Scout 2 will allow the player to hack machines such as Health Stations from relative safety, aiding in a strategic plan.
Recommended Tonics
Edit
Help Caption
"

Health Stations cost a fair amount of money but completely refill your health bar when used.

Your enemies can also employ these Health Stations. If you see a Splicer fleeing when badly wounded, he or she is probably running to heal at a nearby Health Station.

Successfully hacking a Health Station lowers the price of healing, and will cause that particular station to kill any Splicers who try to use it.

Destroying a Health Station will cause a First Aid Kit to spill out, but the station itself will become unusable.

Getting a BLUE BONUS section while hacking will cause a free First Aid Kit to drop from the machine. Be sure to pick it up before you move on.

"
Behind the Scenes
Edit