Transcript:
I didn't recognize the twist that come into the shop today… Stacked like Sally and dressed to the nines. She's play her cards pretty close to the vest, but you ain't gotta be no college yob to see that she's into some bad china. She was asking about magnetic locks, and some such. I played it coy, but she took wise. After she showed me 'round her backyard, I gave her directions to Kyburz' tool shop. Rapture's gone to hell, but sometimes the Great Chain still cuts you a break.
Location: Lower Heat Loss Monitoring, on a desk next to the Security Evasion 2 Gene Tonic.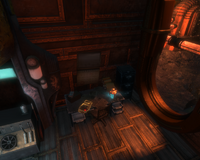 Ad blocker interference detected!
Wikia is a free-to-use site that makes money from advertising. We have a modified experience for viewers using ad blockers

Wikia is not accessible if you've made further modifications. Remove the custom ad blocker rule(s) and the page will load as expected.