"There is something more powerful than each of us, a combination of our efforts, a Great Chain of industry that unites us. But it is only when we struggle in our own interest that the chain pulls society in the right direction..."

- 

Andrew Ryan

---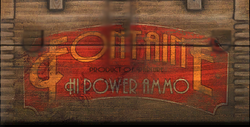 Fontaine Hi Power Ammo was a business owned by Frank Fontaine that produced generic all-purpose ammo for the citizens of Rapture during the Civil War.
Found in BioShock 2 Multiplayer, the player can either find these boxes in Circus of Values vending machines, or scattered around the level.
Ad blocker interference detected!
Wikia is a free-to-use site that makes money from advertising. We have a modified experience for viewers using ad blockers

Wikia is not accessible if you've made further modifications. Remove the custom ad blocker rule(s) and the page will load as expected.