"There is something more powerful than each of us, a combination
of our efforts, a Great Chain of industry that unites us."

- 

Andrew Ryan

---

This article, or section of an article, is a stub.


It is too short to provide more than rudimentary information about a subject. Would you kindly help BioShock Wiki by

expanding it

?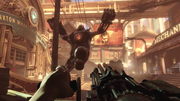 Finkton Wharf Shipping Dock is a building in Columbia, where shipping goods are received and delivered. It was briefly featured in the Beast of America trailer, where a Handyman and a Vox Populi member are attacking Booker DeWitt.