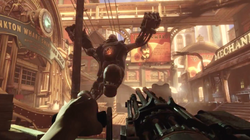 Finkton Wharf Shipping Dock is a building in Columbia, where shipping goods are received and delivered. It was briefly featured in the Beast of America trailer, where a Handyman and a Vox Populi member are attacking Booker DeWitt. It did not make it into the final version of BioShock Infinite and was replaced by the Factory at the Plaza of Zeal in Finkton Proper.
Ad blocker interference detected!
Wikia is a free-to-use site that makes money from advertising. We have a modified experience for viewers using ad blockers

Wikia is not accessible if you've made further modifications. Remove the custom ad blocker rule(s) and the page will load as expected.