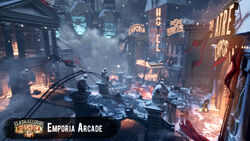 Emporia Arcade is the fourth map in Clash in the Clouds DLC in BioShock Infinite. Like all maps, it contains 15 Blue Ribbon Challenges and 15 waves of enemies, including Handymen, Motorized Patriots, Sirens, Firemen and Zealots.
It is situated at Emporia Arcade, a plaza with a hotel and a Cunningham Studios outlet. Much of the district, like the rest of Emporia, has been looted and vandalized by the Vox Populi. A single Sky-Line loops around the plaza's central building. Office doors can be used for special respawn tactics.
Emporia Arcade can be unlocked for 1000 Silver Eagles.
Clearing all 15 waves yields the "Hand of the Prophet" Achievement/Trophy.
Show list
Wave 1
9 Enemies
Wave 2
8 Enemies
6 Soldiers
2 RPG Soldiers
Wave 3
11 Enemies
7 Soldiers
4 Volley Gunners
Wave 4
8 Enemies
6 Soldiers
2 RPG Soldiers
Wave 5
2 Enemies
Wave 6
7 Enemies
Wave 7
8 Enemies
Wave 8
7 Enemies
4 Soldiers
1 RPG Soldiers
2 Patriots
Wave 9
10 Enemies
5 Soldiers
3 RPG Soldiers
1 Patriot
1 Siren
Corpses
Wave 10
15 Enemies
Wave 11
2 Enemies
Wave 12
9 Enemies
4 Soldiers
3 Zealots
2 Patriots
Wave 13
15 Enemies
Wave 14
1 Enemy
Wave 15
Ad blocker interference detected!
Wikia is a free-to-use site that makes money from advertising. We have a modified experience for viewers using ad blockers

Wikia is not accessible if you've made further modifications. Remove the custom ad blocker rule(s) and the page will load as expected.