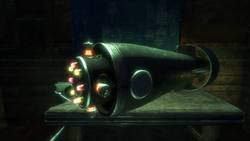 "The device is almost finished. I can't get soft now, I can't!"
― Kyburz
The Electromagnetic Pulse Bomb, or simply the EMP Bomb, was a device created by Kyburz to overload the energy core in Hephaestus. Kyburz never got a chance to use the device, and it lays unfinished and undiscovered in a crawlspace behind his working area.
As the Rapture Civil War spiraled out of control, life in the underwater utopia grew increasingly desperate. Friends, neighbors, compatriots all began to turn on each other as ideology and war ripped society to pieces. Kyburz became convinced that the only way to end the bloodshed was to take out Rapture's polarizing leader Andrew Ryan.
Before he could do this, he had to find a way to breach Ryan's defenses and gain access to the man's office in Rapture Central Control. He figured an Electromagnetic Pulse Bomb would be the only thing strong enough to overcome the magnetic lock. Both Anya Andersdotter and Pablo Navarro speculated its existence, but were killed before discovering further details.
Main article: BioShock
When Jack happens upon the device, he sets out to finish what Kyburz had started. As outlined in his audio diary, Assembling the Bomb, the items needed to finish the device are:
Once Jack obtains the components, he uses them to complete the bomb. Jack then plants the bomb, activates it to overload the core, and gains access to Rapture Central Control, where Andrew Ryan awaits him.
Behind the Scenes
Edit
References
Edit
↑ Kyburz' Audio Diary: Assembling the Bomb
↑ Pablo Navarro's Audio Diary: Getting a Break
↑ Pablo Navarro's Audio Diary: Kyburz Door Code
Ad blocker interference detected!
Wikia is a free-to-use site that makes money from advertising. We have a modified experience for viewers using ad blockers

Wikia is not accessible if you've made further modifications. Remove the custom ad blocker rule(s) and the page will load as expected.