Eavesdropper is an Achievement/Trophy in BioShock Infinite. The Achievement is worth 50 Gamer Score and the Trophy is silver.
| | | |
| --- | --- | --- |
| " | Description: Collected every Voxophone. | " |
Requirements
Edit
The player will have to collect every Voxophone in a single game.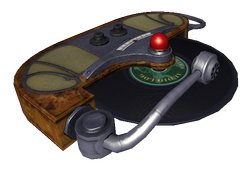 There are 80 different Voxophones in the game.
The first Voxophone is Love the Sinner and the last is The Mirror of Sin.
When picking up your 80th Voxophone, make sure that the Achievement/Trophy notification pops up or check that you actually got it, before quitting the game (if your only mission was to collect them all), as the game occasionally doesn't count the last Voxophone before you reach a checkpoint.
The Voxophones found in Clash in the Clouds and Burial at Sea - Episode 2 does not count towards this Achievement/Trophy.
For the Voxophone locations, see the main page for the Voxophone.
If you note that you missed a Voxophone after progressing beyond the location, simply go to the main menu of the game and load up that chapter.
The player can use the Extra! Extra! Gear to obtain Silver Eagles when picking up the Voxophones.
Behind the Scenes
Edit
The Achievement/Trophy icon depicts a suspicious man using an ear trumpet.

The icon originally had a slightly different design: the man on the icon had a slightly different facial expression.