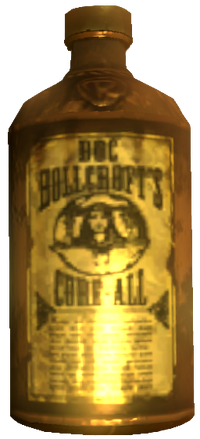 "Do you suffer, my friends, from the 'Plasmid Blues'? Dizzy? Nauseous? Seeing things that aren't even there? Step right up and try Doc Hollcroft's Cure-All Elixir!"
―excerpt; handbill
Doc Hollcroft's Cure-All is a consumable medication that can be found on corpses, inside containers and vending machines, and other places throughout Rapture. The Cure-All will restore a small amount of both Health and EVE, and Extra Nutrition will increase the amount each bottle gives.
The actual medicinal value of the Cure-All is purely a placebo effect; it's nothing more than a "snake-oil", made up of cheap odds and ends that James Hollcroft managed to throw together for pennies on the dollar. There is, however, a minute dose of ADAM and EVE in each batch, if his list of "ingredients" is to be believed.
Ingredients of "Doc. Hollcroft's Cure-All"
Edit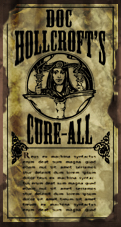 | | Amount | Item(s) | Price |
| --- | --- | --- | --- |
| 1. | 10 Gallons | Desalinized sea water | $1.85 |
| 2. | 50 Pounds | Remnants from Fontaine's Fisheries | $10.50 |
| 3. | A gross | Sinclair's Wholesale Hypos | $20 and change |
| 4. | 2 Ounces | Pure ADAM | $45 |
Help Caption
Edit
| | | |
| --- | --- | --- |
| " | Take a swig of Doc Hollcroft's wonderous Cure-All to refill some Health and EVE. Like all food and drink, it is consumed immediately when picked up. | " |
Behind the Scenes
Edit
The Doc Hollcroft's Cure-All bottle was designed by Lucas Aceituno.[1]
References
Edit
Ad blocker interference detected!
Wikia is a free-to-use site that makes money from advertising. We have a modified experience for viewers using ad blockers

Wikia is not accessible if you've made further modifications. Remove the custom ad blocker rule(s) and the page will load as expected.