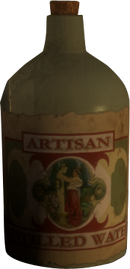 For the consumable item in BioShock 2, see Fresh Water.
Distilled Water is used in conjunction with U-Invent stations to create various items. Distilled water is relatively rare. The first major source is in the Worley Winery in the Farmer's Market.
Items which Require Distilled Water
Edit
x25
x2
x1

-
-
-

3
3
7
Behind the Scenes
Edit
Ad blocker interference detected!
Wikia is a free-to-use site that makes money from advertising. We have a modified experience for viewers using ad blockers

Wikia is not accessible if you've made further modifications. Remove the custom ad blocker rule(s) and the page will load as expected.