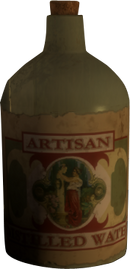 For the consumable item in BioShock 2, see Fresh Water.
Distilled Water is used in conjunction with U-Invent stations to create various items. Distilled water is relatively rare. The first major source is in the Worley Winery in the Farmer's Market.
Items which Require Distilled Water
Edit
x25
x2
x1

-
-
-

3
3
7
Hacking reduces the number required by one, and the Clever Inventor Gene Tonic also reduces the number required by one. Requirements can't be reduced to less than one of each ingredient. The Prolific Inventor tonic doubles the number of items invented with each purchase.
Behind the Scenes
Edit