Transcript:
Fontaine didn't bring me down here for my skills as a stevedore… he needed guys who could keep their mouth shut. I look at it like this: Everyone's a crook of some kind or anotha', and us guys who admit it? We got a leg up on dem that don't.
Location: On the couch in the player's apartment.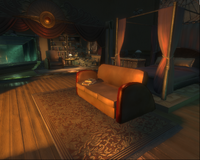 Ad blocker interference detected!
Wikia is a free-to-use site that makes money from advertising. We have a modified experience for viewers using ad blockers

Wikia is not accessible if you've made further modifications. Remove the custom ad blocker rule(s) and the page will load as expected.