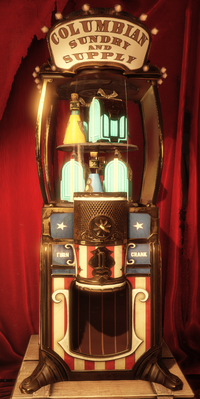 The Columbian Sundry and Supply is a special vending machine that only appears in the downloadable content Clash in the Clouds. Found in the maintenance room in the Columbian Archeological Society, it alternatingly dispenses Infusions and Gear, and is only accessible between rounds.
Ad blocker interference detected!
Wikia is a free-to-use site that makes money from advertising. We have a modified experience for viewers using ad blockers

Wikia is not accessible if you've made further modifications. Remove the custom ad blocker rule(s) and the page will load as expected.