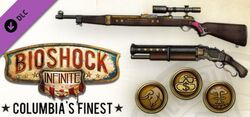 BioShock Infinite: Columbia's Finest is a downloadable content pack for BioShock Infinite which combines the previous contents prior to the game's release, both from the Upgrade Pack (originally part of the Premium and Ultimate Songbird Editions of BioShock Infinite), and the Industrial Revolution Pack, along with both preorder weapons from Best Buy and Gamestop. It was released on June 25th, 2013, and does not count as part of the Season Pass. The pack is also included in BioShock Infinite: The Complete Edition and BioShock: The Collection.
All items are collected at The Blue Ribbon restaurant at the beginning of Comstock Center Rooftops, with the exceptions of the special weapons being unlocked by default and the lockpicks at the Welcome Center of Soldier's Field.
Ad blocker interference detected!
Wikia is a free-to-use site that makes money from advertising. We have a modified experience for viewers using ad blockers

Wikia is not accessible if you've made further modifications. Remove the custom ad blocker rule(s) and the page will load as expected.