"There is something more powerful than each of us, a combination of our efforts, a Great Chain of industry that unites us. But it is only when we struggle in our own interest that the chain pulls society in the right direction..."

- 

Andrew Ryan

---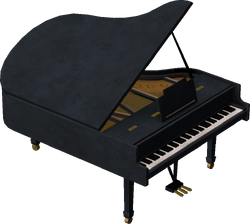 "Finest Quality"
― Advertisement
Champion Pianos was a producer of pianos in Rapture. Since they aren't mentioned by any characters throughout the game, nothing more than their advertising posters is known of them. They likely produced a number of the pianos seen throughout Rapture.
A record of Champion Piano can be found in a Jukebox in Burial at Sea - Episode 1.
Ad blocker interference detected!
Wikia is a free-to-use site that makes money from advertising. We have a modified experience for viewers using ad blockers

Wikia is not accessible if you've made further modifications. Remove the custom ad blocker rule(s) and the page will load as expected.